It's 2021 and video marketing is more important than ever. Wouldn't it be nice to sit back and have all your marketing done automatically? Of course, it would. That's where marketing automation comes in!
Keep reading to learn more about marketing automation and how you can pair it with your video marketing.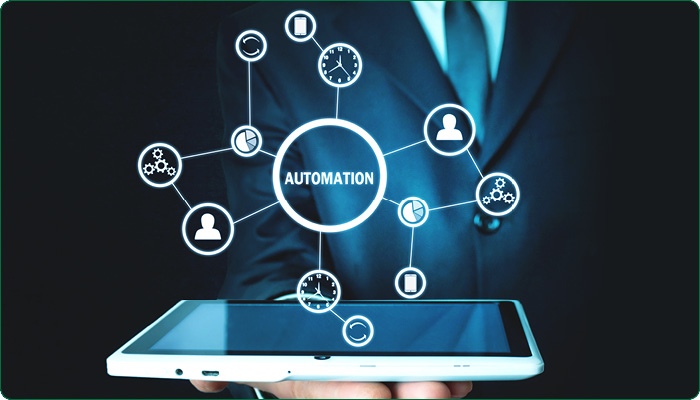 What is Marketing Automation?
"Marketing automation drives a 14.5% increase in sales productivity and a 12.2% reduction in marketing overhead" (Nucleus Research)
Marketing automation is a resource that automatically directs marketing processes and campaigns across multiple channels. This functionality allows you to automate your online marketing campaigns and increase lead generation, nurturing, and overall ROI measurement. From automating the lead qualification process to creating a center for campaign creation, automation is the key to simplifying such a complex system.
You should begin by evaluating your marketing goals and look for ways that video can be incorporated into your marketing automation strategy. For example, email is a huge part of marketing automation, and video has proven to be very successful in email (see our article, Email is Not Dead for tips in using video email marketing). By harnessing the power of automation, video, and email, you can delight your prospects with consistent, engaging content at important points in the customer journey.
Set Some Goals
"63% of survey respondents indicate that the ability to set measurable objectives for each of their campaigns is the biggest value driver of marketing automation" (Gleanster)
You cannot begin the automation process without identifying some key goals. Many common goals include, but are not limited to lead generation, lead nurturing, and lead scoring. Let's discuss how you can use video in your automation to tackle these goals.
Lead Generation
Generating leads is all about making intentional connections right from the start. For many companies, this looks like prompting the visitor to fill out a form (e.g. contact form, brochure download, e-guide, demo request, etc.) However, there are ways you can leverage video and still capture similar information.
For example, on your website you could have a video that is followed by a prompt to submit contact information in order to learn more, request a demo, etc. According to Wistia, this tactic resulted in a 43% conversion rate based on a watch time of twenty-four seconds.
While we do not recommend demanding contact information on every video on your website, it is worth noting that strategically including forms in certain videos can reap big rewards.
Nurturing Leads
"Nurtured leads produce, on average, a 20% increase in sales opportunities versus un-nurtured leads" (DemandGen Report)
"Businesses that use marketing automation to nurture prospects experience a 451% increase in qualified leads" (The Annuitas Group)
Before you can sell your lead anything, you need to understand where they are in the buying process, what their challenges are, and what they are thinking. Once you've mapped where your lead is in the buyer's journey, you can establish a connection via video.
If your prospect is in the awareness stage, consider using marketing automation to send educational videos to inform them more about the industry or product category. It may be too soon or aggressive to send these leads actual product videos.
If your prospect is in the consideration stage, consider using marketing automation to send company-related content. You should send videos that demonstrate how your product solves the problems that they have expressed. It is too soon for in-depth videos such as testimonials or case studies, but general product overviews will be helpful.
Finally, if your prospect is in the decision stage, consider using marketing automation to send videos that will push them toward a purchase decision. Use testimonials, case studies, product demos, etc., to put your product over the edge of your competitors.
Lead Scoring
The first step in qualifying your lead using video is to determine how effective your video sharing was in the customer journey process. If your lead has watched many of the videos you sent them, then they should be considered a more qualified lead. Conversely, if they have watched few of the videos you've sent them, they are a less qualified lead. Once you have determined how qualified the lead is with marketing automation, you can proceed down the purchasing funnel.
Now What?
By now, you understand the importance of marketing automation and how video is a superior communication tool. Remember, the goals you set during this process will significantly impact the effectiveness of your marketing automation plan. By combining marketing automation with video, you will foster more meaningful connections with your leads.
So, where do you go from here? How do you begin leveraging video in your marketing automation? What tools will help you along the way?
We recommend using SalesMail.
SalesMail is a market-leading branded video messaging application that allows you to instantly record and send personalized video messages. With SalesMail, you instantly build trust, develop great relationships, and get responses faster.
Even better, SalesMail allows you to easily add targeted video messages into automated workflows, fostering a more personalized approach to your marketing automation routines.
Here are a few more key reasons SalesMail is a hit for video marketing automation:
Improve open and clickthrough rates

Generate more conversions

Expedite the sales cycle

Get face-to-face when you can't be there in person

Real-time reporting and analytics

Personalized to your brand

Instant comments and reactions
As we have discussed, using video in marketing automation is a key component for generating new leads, nurturing existing leads, and qualifying those leads. Using SalesMail, you can get the right content, to the right people, at the right time. For more information on SalesMail go online to www.mysalesmail.com/.