What is a CTA?
CTAs, or call-to-action buttons, are clickable buttons on your website and in your emails that guide users through your marketing funnel toward a desired conversion. Your CTA buttons can vary in size, shape, and purpose depending on your branding and goals. Some of the most common CTAs are:
Download button

Request a Demo button

Learn

M

ore

button
Whatever the call-to-action is, the general goal is still the same – get the user to click (maximizing your clickthrough rates) and take a subsequent action.
Keep reading below for our picks for the seven best practices for creating compelling call-to-action buttons!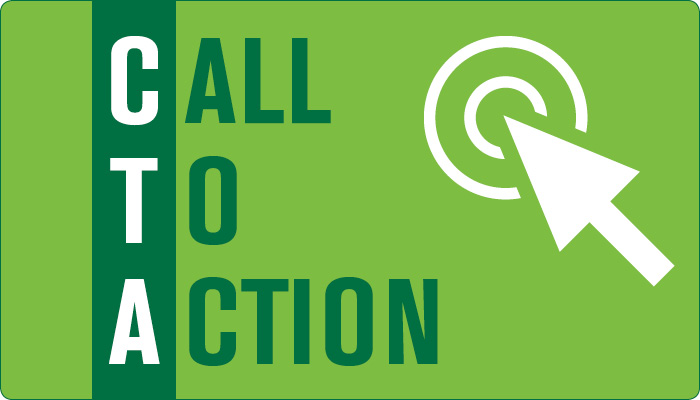 1. Use Actionable Text
The words in your call-to-action should be actionable, and they should prompt the user to do something specific. Use words that invite the user to click such as "get," "reserve," "try," "join," "learn," etc. Whatever words you use, make sure you are emphasizing your value proposition. If you are offering a free download, then you should use a CTA such as "Get Your Free Download Now." This actionable messaging tells the user exactly why they are clicking on the button.
2. Keep It Short and Simple
Keep your messaging short and simple. Considering our discussion about actionable text, it can be challenging to write concise copy. Many marketers are tempted to use too many words in their CTA because they believe it is prime real estate for verbiage. However, it's best keep the call-to-action brief and utilize the rest of the post copy for explanations. For a CTA button, you should stick to three to five words.
3. Create Urgency
Creating a sense of urgency will compel users to click your call-to-action button. As humans, a sense of scarcity forces us to make decisions. If you apply this logic to your CTA, you will certainly increase your clicks. For example, your buttons could use text such as:
Join for 25% Off Today Only

Download Now

Register by March 1

st

Sign Up Today
4. Optimize the Design
The appearance of your call-to-action button is just as important as the text displayed on it. First, your buttons should be easy to read. The text should be large enough that it is legible – but not so large that it consumes an overwhelming amount of the screen space. Next you have to consider color. Generally speaking, colors like green, blue, and orange typically perform the best for their soothing nature – but you should consider how the color scheme corresponds with your branding.
Lastly, consider the shape of your button. Do your company aesthetics align with a curved or square button? Neither is particularly more successful than the other; however, you want to make sure you are maintaining a consistent brand image. Overall, the design of your button will play a huge part on whether or not a user clicks.
5. Pay Attention to the "White Space"
When considering the overall look of your call-to-action button, don't forget about the spacing around it. Your CTA buttons should always have a healthy bit of empty space around it. This helps your button stand out from the rest of the text on the website, which increases its visibility and likelihood of being clicked.
6. Go with the Flow
When crafting a website or landing page that uses a call-to-action button, you should consider the flow of the page. Understanding the flow of a user will elicit higher clickthrough rates on your CTAs.
Users tend to read from left to right, top to bottom. Therefore, you should place your CTA buttons in a place that makes the most sense to the user – i.e., the bottom of the page or to the right of the other content. That way, the call-to-action is strategically placed. You do not want to put CTA buttons in the middle of a page if there's more copy to follow because you do not want the user backtracking to find your CTA.
Finally, make sure you are emphasizing your most important call-to-action. If you have multiple CTAs, make sure the most important CTA is the most prominent (via color contrasts, bolding, size, placement, etc.)
7. Test and Test Again
So, you have designed your call-to-action and have optimized its placement, now what?
You test that button over and over again! This is absolutely vital to maximizing the effectiveness of your button. This is a great place to use A/B testing to determine what the best results are. Play with the style, color, verbiage, placement, etc. These tests will be crucial for determining the effectiveness of not only your CTA button, but also your landing page as well.
We hope you use some (all) of these best practices for creating compelling call-to-action buttons! In the meantime, check out how we use CTA buttons in our market-leading branded video mail application, SalesMail.
SalesMail
SalesMail allows you to instantly record personalized video messages that you can send via email, text message, or through any of your other favorite messaging apps. With SalesMail, you instantly build trust, develop great relationships, and get responses faster. Here are some key features of a SalesMail video message:
Custom Call-To-Action Buttons

Instantly Branded to Your Company

Digital Contact Card

Instant Detailed Reports and Analytics

Two-Way Comment and Emoji Reactions
For more information about SalesMail, or to learn some best practices on utilizing video mail, click here: