SalesMail is a market-leading branded video messaging application that allows you to instantly record personalized video messages that you can send via email, text message, or through any of your other favorite messaging apps. With SalesMail, you instantly build trust, develop great relationships, and get responses faster.
Today we discuss how video mail is an undeniably effective tool for driving opens and clicks for your marketing communications.
While video mail has been traditionally used in a one-to-one capacity, using it in a one-to-many capacity can be a game-changer for email marketers.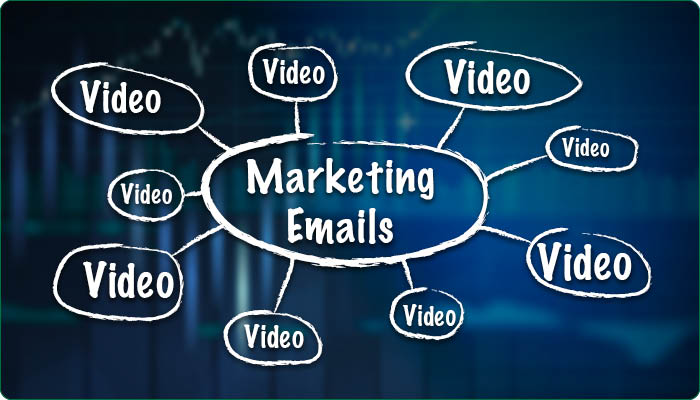 Video Email Marketing
Even with the influx of new marketing technologies and trends, email marketing remains a top tactic for marketers everywhere.
Marketers, however, are still challenged to compete for attention in their audience's inboxes.
With that challenge at hand, innovating your email marketing can deliver significant benefits. Today, this is why marketing professionals everywhere use video in their email strategies. By adding video to your emails, you are introducing a new medium that will break up the monotony of text and images.
Let's discuss the major, practical benefits for implementing this strategy.
Using video in your email campaigns will immediately build your brand awareness. It gives your audience a chance to learn who you are – putting a face to the name. Using video in your emails, you will convey an authentic brand narrative; your customers can hear your inflection, see your face, and understand the overall message you wish to communicate. Not only this, but by communicating via video, you'll likely save time! Drafting an email that is engaging and genuine, in addition to the graphic design component, can be needlessly time-consuming.
Sending video mail will allow your messages to stand out in your audience's inboxes rather than being lost to the sea of black and white. The movement of a video preview or GIF will pull attention right to your message.
But don't just take our word for it, let's look at the stats!
Video Mail Stats
Over the past three years, we have collected data on over 600,000 delivered emails.
We compared the opens and clicks of image-based HTML emails to that of video mail messages sent with SalesMail.
Here's what we saw:
| | | |
| --- | --- | --- |
| | SalesMail | HTML |
| Delivered: | 123,140 | 478,756 |
| Opens: | 22,752 | 63,949 |
| Open Rate: | 18.5% | 13.4% |
| Clicks: | 5,651 | 10,090 |
| Clickthrough Rate: | 24.8% | 15.8% |
As you can see, conservatively, SalesMail increases open rates by 38.1% and clickthrough rates by 56.9% compared to image-based HTML emails.
When it comes to email marketing, videos beat images every time!
Ways to Use Video in Email
In addition to using video in your marketing emails, there are hundreds of other ways to use video mail. The capacity by which you can use video mail is only limited by your imagination. With that said, we've outlined some effective uses of video in emails that you should try:
Personal Introductions

Emergency Communications

Employee Shout-Outs

Testimonials

Virtual Tours

Team Communications
Connecting with Referral Sources

Website Autoresponders

Out-of-Office Replies

Personally Nurturing Leads

Thank You Messages

Tradeshow Marketing
Try SalesMail
Don't fall behind your competition. Start using video in your marketing emails with SalesMail today!