Virtual tours have become standard in many industries, and they aren't going away anytime soon. From multifamily housing and senior living to restaurants and hospitality, the virtual tour industry is booming. How can you best take advantage of this process without leaving it all up to the customer?
Start using video mail to conduct your virtual tours of course!
Video mail allows you to send personalized video messages right to your prospect or client – making them feel connected to you as a salesperson. Using a video mail application like SalesMail allows you to instantly record and send video messages through any of your favorite email or messaging applications.
Video mail is an essential tool in the multifamily and real estate industries because leasing agents and realtors can quickly and efficiently record and send personalized tours of units, amenities, and properties to interested parties.
Keep reading to learn how creating virtual tours is made easier with SalesMail!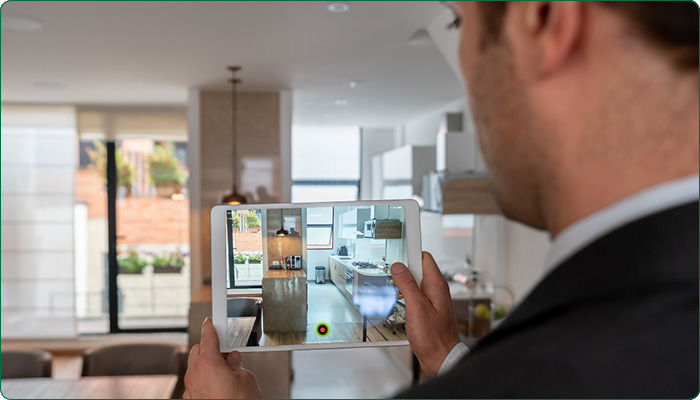 Link Out to More Information
SalesMail allows you to include a custom call-to-action button under your video that links out to any URL of your choosing. Using a CTA button will allow you to direct viewers to more information, and take the next action you deem most valuable. This link could be to your website, a document, another video, your calendar, and so much more. The limits are endless!
Brand to Specific Locations
Having strong branding is essential in a competitive market. SalesMail is instantly branded with your corporate or locational branding. This will make your video message immediately recognizable to your prospect or client. For example, if a prospect is considering multiple locations, displaying your logo and contact information in a way that stands out is sure to keep you at the forefront of their decision-making process!
Quick and Easy
When engaging in a highly competitive industry, timing is everything. Therefore, you want products that are quick and easy to use that save you time in the future. SalesMail requires only three clicks! Record, Share, and Send. You can even save more time by batch recording your videos and saving them as Favorites to be sent at any time! Do you have a popular pool or fitness center? Add a virtual tour of those locations to your Favorites to send at a moment's notice!
Lots of Data
How do you know if your videos are being watched by your prospects? With SalesMail's real-time reporting, you get instantaneous results. You'll know when and where your video is being viewed. This will allow you to know exactly how you should follow up with that client or prospect. Did you just receive a view on a tour of a 2-bedroom apartment? Follow up with a video of some of your other amenities to seal the deal!

Reusable and Rewatchable
Your prospects and clients should be able to access information about your facilities as much as possible. A great aspect of SalesMail is that the videos are rewatchable! So long as you haven't deleted the video, a recipient can watch your video as many times as they want, in addition to forwarding it to others. Not only that, you can also send your video messages to as many recipients as you want. Got a great tour of a 3-bedroom unit? Send that tour to as many interested parties as you can!
SalesMail
As we have discussed, virtual tours aren't going anywhere anytime soon. We advise you to take advantage of this and start using video mail to get those tour videos to the right prospects today!
Using SalesMail will allow you to stand out in your client's inbox amongst the sea of plain-text emails. By putting a face to your name, video mail is much more personal and helps you develop stronger relationships with your prospects. Here are some other great ways to use SalesMail in your sales and operations:
Lead follow-ups

Team communications

Introductory messages

Out-of-office replies
Find more use-cases and other great resources about video mail here! For more information about SalesMail, go to SalesMail.com. If you are ready to get started, request a demo down below!