Have you ever found yourself struggling to communicate sensitive information during an emergency in a way that is caring and empathetic, but also direct and informative?
If you answered yes, then this is the article for you.
During an emergency, the last thing you want to do is come across as hard-boiled and uncaring. Sometimes, however, when you are delivering important information regarding said emergency, your compassion can get lost amongst the details. That's why we recommend using video mail to deliver this information.
In this article, we discuss how you should be using video mail as your communication method during emergencies and crisis situations.
(If you are unfamiliar with video mail, click here!)
Understanding Tone
When communicating with customers during emergencies and crisis situations, it is important to make sure you are using the right tone. You want your recipient to view your messaging as reassuring, caring, and empathetic throughout the entire video.
With video mail, there is less room for discrepancies in your tone than traditional email - viewers are less likely to misinterpret a video than plain-text. Your recipients are watching you verbally deliver sensitive information. Therefore, you can empathetically convey that information in a way that is genuinely caring via vocal tone, facial expressions, and general demeanor.
While the actual information you are presenting is the most important part of the message, delivering it with care and compassion is the best way to reduce the anxiety of your recipients and ensure a more uniform interpretation of the message.
Providing the Right Information
During an emergency or crisis, we sometimes have the tendency to over-explain and complicate our messaging. Be mindful to avoid this tendency as much as possible.
Using video mail, you should limit your emergency communications to three minutes. This time limit is beneficial as it helps you edit your emergency communications to specific, actionable steps and policies. You can and should pull out the most important details of your Emergency Management Plan. By providing the most important details, you are making the information more digestible for your viewer.
For those using SalesMail for this purpose, you also have the ability to share more resources via the call-to-action (CTA) functionality. The CTA button is the perfect place to link out to more detailed information after covering the most important highlights in your video. This will give the recipients the autonomy to access more information if they desire it.
By providing the key information via video, while also providing access to more detailed information via CTA, you educate your viewers and show them you have a thorough emergency response plan – which will reassure them during this stressful situation.
Setting Expectations
We all know that communication is always key – especially during an emergency. However, when potentially hundreds of people are trying to communicate with you, it can become exceptionally difficult. Especially when you are trying to manage the emergency at the same time.
In your video mail messages, you should inform your recipients about when to expect future updates from your team and where to direct questions in the interim. Setting these expectations will not only reduce your own stress related to swaths of incoming emails, but will also reduce the anxiety of your recipients since they will have expectations of when they will be receiving more information.
Maximizing Shareability
Often times, during an emergency, more people want information than you traditionally communicate with, i.e., family members, friends, etc. That's why it is important to create a message that has shareability.
Using SalesMail, each video has its own unique URL. Therefore, by the very nature of the platform, it has tons of shareability. Viewers can simply copy the link and share the video with anyone that they feel needs the information. However, there is more that goes into shareability.
Here are some tips for making a video mail message more shareable:
Verbally invite viewers to share the URL with others.

Make it clear that the video is being shared to the masses.

Keep the information applicable to everyone involved, not specific individuals.
By maximizing the shareability of your video mail message, you are likely to reduce the number of additional inquiries from extended family and friends. Additionally, you are providing your recipients with a resource they can share with others, thus easing their stress as well.
Emergency Outreach Scenarios
What are some emergency situations to employ this information? Below are a few examples of scenarios where you might consider sending video messages to customers, clients, their families, and their friends.
Inclement Weather – hurricanes, monsoons, snowstorms, forest fires, and other severe weather events.

Health and Wellness – flu season, pandemics, hazardous chemical exposures, etc.

Local or Global Crisis – civil disorder, power outages, active shooters, war/terrorism, and the like.
Using video mail during emergency situations to communicate with your audience will provide you with a medium that maximizes effective communication, instills trust, and betters your relationships with them.
To get started with video mail, click here!

What is Video Mail?
Video mail is the term for sending videos via email. This is different from a video attachment or a hyperlink out to a video elsewhere on the internet because the video's contents appear directly in the body of the email.
Using video mail has revolutionized the way we think about and plan email communications. By adding video into your emails, you are introducing a new medium that will break up the monotony of text and images that your recipients so often receive via email. A personal video message could be the key component to break through a prospect's filters and grab their attention. There is no other medium that can quickly and effectively communicate your message than video!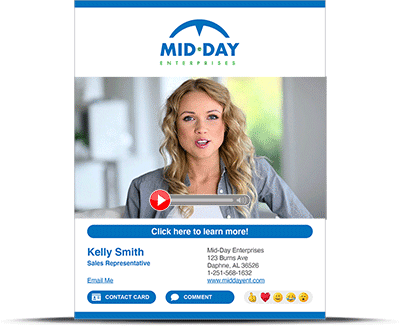 Try SalesMail!
SalesMail is a market-leading branded video mail application that allows you to instantly record personalized video messages that you can send in just a few quick clicks. With SalesMail, you instantly build trust, develop great relationships, and get responses faster.
For more information head to SalesMail.com.