Property management is a dynamic profession that comes with many responsibilities. After the challenges of the pandemic, many leasing teams have adopted a "new normal" that places an emphasis on a more remote leasing process. The result?
Centralized leasing!
Centralized leasing is a management model where a large portfolio of properties is managed by one off-location office, rather than an on-site per property location. This model gives management the ability to save money and creates a more holistic approach to apartment shopping for renters and can encourage greater communication between employees and managers to improve the efficiency of operations across the board. For this model to be executed effectively, a mix of the right people and the right technology needs to be in place.
From hosting virtual tours, signing leases, to maintenance, there are a variety of excellent tech tools available to meet these increasing demands. Let's take a look at some of the top tech tools to implement for centralized leasing agents!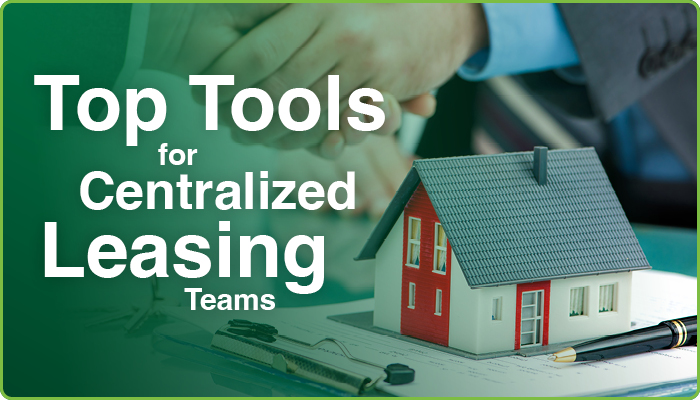 Video Mail
Here are some ways we suggest centralized leasing agents use video mail:
Virtual tours

Response-to-inquiry

Website auto-responders

Waitlist nurturing

Resident communications

Personalized testimonials

So much more
A modern digital sales strategy demands using video. Why is video so necessary (and popular)?
Viewers retain 95% of a message when they watch a video, compared to just 10% when reading text. And according to HubSpot, "Reps that use video in prospecting, relationship-building, and sales emails see 5x higher open rates and 8x higher open-to-reply rates."
By using a video mail app—branded for each property--leasing agents instantly build trust, create deep connections with residents and prospects, and achieve desired business outcomes (like occupancy and resident retention) more quickly
For centralized leasing agents, a well-crafted branded video mail strategy can help you:
Differentiate your properties and sales teams in areas of high competition.

Make deeper connections with prospects at the outset of the sales process.

Maximize resident retention through high-touch client service outreach.
Apartment Leasing App
For leasing agents to reach as many potential tenants as possible, property managers should be proactive with advertising listings.
There are many channels to advertise properties, but listing on an apartment leasing site and app is critical for any marketing strategy. This kind of app is incredibly efficient. As soon as a manager has a new listing, the details can easily be uploaded in real-time to quickly provide accurate information to those seeking an apartment.
These platforms are especially popular with the younger generations because these sites are easily accessible on both desktop and mobile devices. This makes apartment hunting possible from anywhere at any time. This also makes it easier to share listings with family members or potential roommates.
In addition, helpful reviews are often shown alongside the listing. Reviews from community members often serve as the first impression for your property. This feedback can build confidence, close the deal, and secure long term tenants.
Potential residents are looking for a simple yet efficient process, and leasing applications are the best way to do so.
Intelligent Document Processing
Let's be honest – there is a ridiculous amount of paperwork associated with the leasing business. Every property has necessary documentation, from lease contracts, invoices, receipts, tax forms, the list goes on. Keeping track of and managing all of these documents is time-consuming but essential.
With intelligent document processing (IDP) software, you can automate some of these repetitive tasks. Using artificial intelligence and natural language processing, IDP software can extract key information from many documents such as PDFs, emails, images, and more.
This software has proven to be freeing for many property managers. Rather than spending time organizing data from a slew of documents, they can instead focus on tasks required for running many locations. Being able to invest more time into tenant-facing activities will bolster resident satisfaction, increase rapport, and elicit renewals.
Smart Locks
Investing in smart locks can be beneficial in a myriad of ways.
Keyless entry is a very handy feature for centralized leasing agents. Not only is it more cost-effective than continually changing locks (collecting, distributing, and making new sets of keys every time the property is turned over), but it also allows tours to be conducted without the tedious handling of keys.
The landlord can remotely change and create a unique access code between tenants. Also, temporary tenants don't want to be bothered by carrying around keys that they won't need for a long time. Therefore, it is often a very desirable solution for both tenants and agents alike.
Tenant Portal
In order to maintain a favorable tenant experience, leasing agents will want to provide a process that is the most convenient for their residents. Potential and current residents alike will appreciate being able to access and review their contracts, payments, maintenance requests, and more from a centralized leasing portal.
A tenant portal is a win-win solution for not only the resident but for property managers as well. Property managers can locate and review tenant requests directly from the portal and it is a great way to keep track of the resident's history.
Summary
If your business uses a centralized leasing approach, these tech-tools are sure to make your life a bit easier.
To recap:
Deliver a memorable customer experience with video mail.

Increase visibility and convenience through apartment leasing apps.

Increase time for resident/prospect-engagement by using an IDP platform.

Simplify operations and tours with smart locks.

Optimize the resident experience with a tenant portal/app.
Interested in learning more about video mail?
Check out our app, SalesMail!