Staffing and hiring can be a tumultuous process for any company. From awareness about open positions to contacting potential candidates, recruiters must always be thinking of new ways to make their company stand out from their competition.
Below, we have outlined some great ways to use video mail to secure some star players for your team!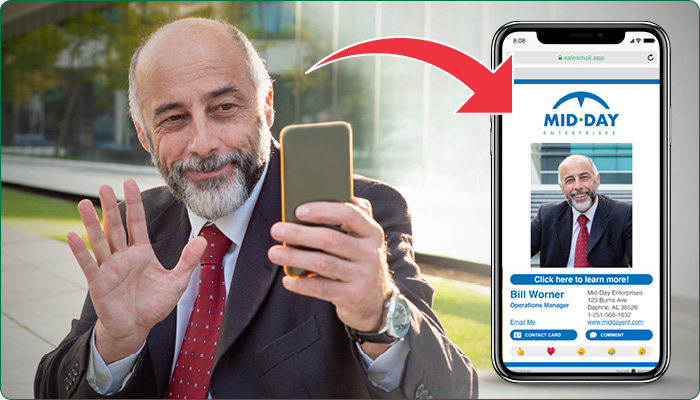 New Staff Recruitin
g Use Cases –
Promote Your Workplace:
Using video mail to promote your company environment is a great place to begin in the recruiting process. In these videos, you want to show what it is like to work at your company without getting into specifics about any open positions. This is where you are building an affinity for your company, its culture, and employees. Here are some prompts for video messages you could send:
Promote hiring event

Showcase company culture

Highlight diversity in workplace

Mission statement

Employee testimonials

Showcase individual employee

Highlight work/life balance
Personalize the Application Process:
Video mail can make the actual application process much more engaging and personalized for the recruit. If your applicant is in the process of applying to many companies, sending a video message will allow your company to stand out amongst the competition. Not only this, but video messages will humanize the hiring process and make the recruit feel more comfortable with you and your company. We have given you some prompts for messages you could send during the application process:
Personalized job description

Thank you for applying and next steps

Congrats on offer acceptance

Career growth opportunities

Highlight benefits - actual employees share their favorite benefit
Call-To-Action –
With a video mail application like SalesMail, you can include a custom call-to-action (CTA) button under your video message. The possibilities are endless with this feature. From the first touch-point message to signing employment agreements, this feature allows you to deliver a message via video and then direct the recruit to their next step in the staffing process. Here are some examples of CTAs you could use:
"Review our benefits package"

"Schedule time with me"

"Watch an employee testimonial video"

"Hear from our founder"

"Read our values"

"Click HERE to Apply"
Real Examples of Recruitment Videos Using SalesMail –
Sharing Recruitment Video Messages –
So, what are some ways to share your recruitment SalesMail videos once you have made them? Here are some ideas to jumpstart your process:
Share SalesMail video URLs about job opportunities, recruiting events, etc. on business and/or personal social channels such as Facebook, LinkedIn, etc. to get exposure. This will allow you to track when and where individuals are viewing your SalesMail video, as well as receive feedback via reactions, comments, or CTA clicks. We highly recommend this step!

Include SalesMail videos in autoresponder emails when someone applies or requests information on your website. This will create a personalized first touch-point between you and your candidate that differentiates you from other autoresponder messages.

Send personalized SalesMail videos to individual candidates that touch on information in their application, something you have talked about before, or what you hope to discuss next. This will make them feel unique and desired during the application process.
Summary –
As we have discussed, the staffing process can be difficult for both companies and candidates. With a video mail platform like SalesMail, you can send personalized video messages to your potential new hires that will not only differentiate you from your competitors, but also make your candidates feel more comfortable during the hiring process.
SalesMail could be the game changer your company needs!
SalesMail is a market-leading branded video mail application that allows you to instantly record personalized video messages that you can send via email, text message, or through any of your other favorite messaging apps. With SalesMail, you instantly build trust, develop great relationships, and get responses faster. Here are a few more key reasons SalesMail is a hit for any company:
Get face-to-face when you cannot be there in person.

Real-time reporting and analytics

Personalized to your brand imagery

Asynchronous video messages – watch when it is most convenient!

Expedite the sales cycle.

Instant comments and reactions
To learn about more ways SalesMail can benefit your business, request a demo down below!