Personalization is your most powerful tool for converting leads into residents!
Everyone wants to feel like they are special. No matter the market or industry, customers have a need to feel important. This is especially true for those looking for a residence. Marketing and Sales Directors in senior living and multifamily housing can accomplish this by increasing the level of personalization and customer care in their leasing processes.
In this article we will explore the ways to use SalesMail, our video mail outreach tool, in the leasing process. You'll find that video mail messaging increases lead-to-tour rates, tour-to-lease rates, and resident-to-referral rates.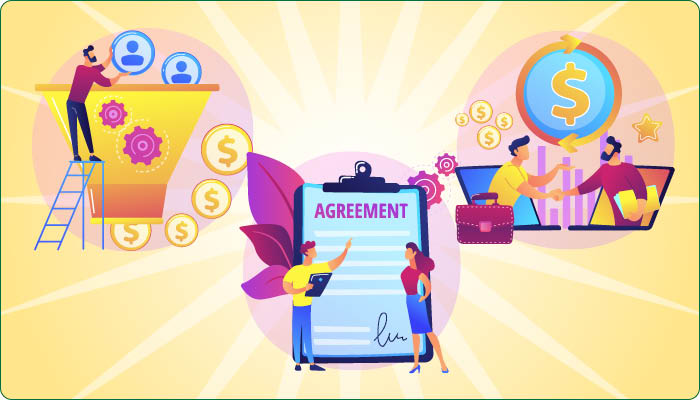 Lead-to-Tour
The first step of the leasing process is turning prospects into leads. Then, you have to get those leads onsite for a tour. But, when and where do prospects turn into leads?
When a prospect submits an initial inquiry via website, email, phone, etc., you should collect as much information as reasonably possible. This includes, but is not limited to, contact information, facilities of interest, sense of urgency, and so on. This inquiry turns a prospect into a lead and will inform your next steps.
Respond to them first!
When a prospect submits an inquiry through your website, your website form should instantly send an autoreply SalesMail message from your Sales or Executive Directors.
Despite the message being a pre-recorded, generalized video message, the recipient will feel a greater touch of personalization than they might be getting from other companies. This early personalization will build a stronger relationship between you and your lead that will differentiate your company from the competition.
This message is also a great opportunity to invite them to schedule their tour. Using SalesMail's call-to-action (CTA) functionality, you can link to your calendar where they can schedule their appointment immediately. This prompt response will get them to your community before they have a chance to visit anywhere else!
Remind them about their upcoming tour!
Use SalesMail to send a pre-tour reminder. This is where you can get more personal with each lead. Using the details collected in their initial inquiry, you can highlight aspects of your property that are of specific interest to them – requested unit, amenities they expressed interest in, timeline of move-in, etc. This additional personalized video message will endear them to you even more and get them excited for their upcoming tour.
Not only this, but it is a lot harder to no-show to an appointment with someone you feel like you know. Using video mail develops a rapport in which the lead feels like they know you – even if you've never met in-person before.
Getting personal gets leads in the door!
By implementing this combination of one-to-many, automated video mail messages and one-to-one, personalized video mail messages in your communications with prospects, you will see more leads coming to your property to tour your property.
Now, we will discuss using SalesMail to convert those who tour your property into residents!
Tour-to-Lease
Once your lead finishes their tour, how do you make sure they come back to sign a lease? This is where nurturing your lead, both during the tour and afterward, is crucial.
Get the scoop during their tour!
The in-person time you have with your prospective resident is incredibly precious. During this time, you are trying to find out all of their wants and needs while also showcasing everything your location has to offer. That is a lot to manage at once!
We suggest taking note of as much relevant information, and some less relevant information, as possible. Finding out interesting information about the potential resident and their family will provide you with content you can use to nurture them after the tour has completed.
Show them you listened!
After you've completed the tour, send a follow-up video mail message that demonstrates that you listened to their needs. Don't just say "thank you for coming," or "let me know if you have questions." Highlight specific details that you discussed. This emphasis on them and their wellbeing demonstrates a level of attention and care that they likely aren't getting from other properties.
Continue to nurture them!
Your attention to your lead should not diminish after their tour. In fact, you should periodically send them video mail messages that generally address their areas of interest as well as other facets of the leasing or move-in process that might not have been discussed previously. Here is a list of video messages to consider:
Quick Virtual Tour of the unit they are interested in

Resident or family testimonials

Special promotions or deals currently in effect

Information about the move-in process
These videos will not only demonstrate that you are still thinking about them but will also provide them with useful information that will help inform their housing decisions. As we have discussed, this increased level of personalization and care throughout the leasing process will entice them to join your community quicker and will build a strong bond with them as residents.
Now, we will discuss using SalesMail to convert those residents into advocates for your company.
Resident-to-Referral
You've done it! You have worked hard and have successfully turned your prospect into a lead, into a resident. Now, how do you get your resident to proactively advocate on your behalf?
Keep them talking!
There is no more effective advertising than word-of-mouth marketing. Buyers are more likely to trust the words of other buyers than the words of companies. The same is true of renters. The happier your residents are, the longer they will choose to live there. Your renters will share their good experiences with others – potentially turning them into prospects. Then your cycle of personalization can continue with those new prospects. But first you must ensure that your renters continue to have a positive experience with you.
What can you do to ensure they have a positive renter's experience?
Provide your residents with great customer service!
Using SalesMail, up until this point, you've been providing a highly personalized experience for your residents. This shouldn't stop just because they signed a lease. You should continue to periodically send them video mail messages that remind them why they chose you in the first place. This high level of care has shown to improve renter satisfaction rates and decrease churn. You should send video mail messages related but not limited to the following:
Upcoming community events or activities

Testimonials or stories from current residents

Announcements or community updates

Holiday greetings

Birthday messages
All these video mail examples demonstrate a higher level of care and consideration that your renters aren't likely to find anywhere else. The more your residents feel like you care about them, the more they will be advocates for your company in the future.
Summary
The biggest takeaway that we will impart is this: providing a more personalized, refined level of client care will result in greater loyalty from residents.
Using video mail in your leasing process ultimately shortens your average days-to-lease because you are getting prospects in for a tour faster, converting them to residents more effectively, and creating an environment they want to live in longer.
If you're looking for new ways to enhance your leasing process, SalesMail is the perfect tool.
Crafting a highly-personalized experience for prospects, leads, and residents will positively impact KPIs like inquiries, conversions, and retention.
Want more info on SalesMail?